Our Story
Named after the physically large noggins of the brewery owners, the Broadhead Brewing company got its start in a basement. Two local Ottawa lads - Josh Larocque and Shane Matte - were dead set on learning to make their own beer. After some early hiccups (who knew you had to grind the grains?) the beer actually starting tasting pretty good. So good, in fact, that Josh and Shane kicked around the idea of opening their own craft brewery.
When two other guys joined the mix - Jason Smale and Jamie White - the basement brewery grew out of control and the jokes got a bit more serious. After a particularly delicious batch of Broadhead beer, the liquid courage got the best of them and they decided to make a go of it. A few short months later, the Broadhead Brewing Company opened its doors and we were stunned to find ... actual customers.
Today, Broadhead is a full-blown microbrewery in Ottawa. Who saw that coming? We've added a few new people to the mix and we're getting better by the day. We embrace the underdog concept at Broadhead because it's what we are: A couple of regular guys who threw everything they had, which wasn't much, into starting the company of their dreams. It's hard work. It's a lot of late nights and early mornings. But watching a customer enjoy a Broadhead beer is worth every unpaid hour.
As for the beards, sometimes when you're really focused on something important, everything else takes a back seat. In Broadhead's case, it was shaving. The beard symbolizes all the hard work we put into the company, and how everything else (such as controlling facial hair growth) came second to the dream.
broadhead's basement days. it begins.
jamie's face says it all. is this for real?
the brewery-and our beards-take shape.
the broadhead business plan
Step 2
sell some, drink some
Step 5
hire all our friends
the team
Josh Larocque
Co-Founder
The brains and heart behind Broadhead, Josh is a bit of a nerd. Josh graduated from Carleton University with a degree in Aerospace Engineering and worked in the field until he decided to stick it to the man and open his own brewery. Josh is responsible for all things brewing-related and developed all of Broadhead's tasty recipes, which involved a lot of late night taste-testing and pizza crushing. Despite being over 30, Josh still thinks Star Trek is a good investment of time, which is another way of saying he doesn't value time.
Likes: Modifications, Saying "We Can Do That Ourselves", Calculating Stuff, Owning an Awful Truck, Looking Forlornly into Distances
Dislikes: The Man, Getting up Before 9AM, Reading Enormous Emails, Movies Without Swords or Lasers (or both)
Jamie White
Co-Founder
Jamie White can grow the biggest beard at Broadhead and he is also the most popular employee (coincidence?). Jamie joined Broadhead in its basement days and he hasn't had any free time since, which is how we like it. From brewing to sales to chatting up visitors, Jamie merrily does it all. Oh, and every once in a while Jamie goes camping and sets fire to a huge piece of furniture.
Likes: Chatting with Anyone Who Will Listen, Owning a Brewery, Angering Josh, Setting Furniture on Fire
Dislikes: Home Depot, Broadhead Parking Spot Squatters, Razors, Non-Furniture-Based Fires
John Buist
Head Sales Guy
John Buist heads up our sales and distribution to make sure everyone can get our delicious brews across Ontario THE WORLD! An awesome responsibility Broadhead would only trust to John who has been with us from the beginning and has helped us grow from passing beers around the garage to today where we ship our product province wide! A sports fan and competitor to the core, when he isn't selling/shipping beer around Ontario you can find him watching or playing sports or spending time with his two kids at home where he is still the reigning hide and seek champion!
Likes: Anything IPA, Pickling Things, Hiding, Playing Hockey, Watching Hockey, Talking Hockey
Dislikes: Anything To Do With Growlers, Cinnamon, Seeking, Flat Beer, Foamy Beer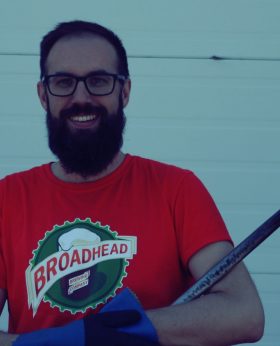 Jon Cormier
Head Brewer Guy
Jon is proof that you can turn your hobby into your career no matter how old you are. After being inspired to begin home brewing by a social media post by Wil Wheaton, he researched "Star Trek loving breweries" and found us. If you've enjoyed a pint of our beer, you can give Jon a high-five (he also accepts low-fives) for a job well done. When not rushing around the brew floor to make great beer, you'll likely see him around doing dad stuff... Or cradling a paddle he repurposed for mixing grains in the mash tun (see picture).
Likes: Referring to Soccer as Football, Signing Lullabies to Brewery Equipment, Hops, Malts
Dislikes: Bacteria, Only Having 24 Hours in a Day, Being Asked Where he Sees Himself in Five Years, Shitty Darkening Picture Filters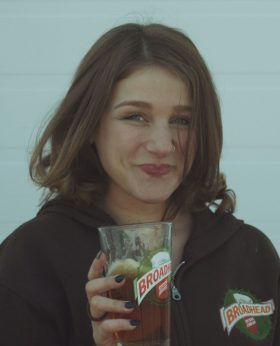 Natasha Bergeron
Guider of Tours
If you've been on a Broadhead tour already then you met Tash. Although she doesn't sport a beard, Josh, Jamie and the gang have happily accepted her into the Broadhead family. While she's mainly known for her cheeky smile, loud instructions and passion on every tour she gives, she also helps us out with retail and events. Tash grew up in the brewing industry all thanks to her family owning Hart Brewery. She's self-described as "fermenter born", and we question whether that's where her two daughters were born.
Likes: Starting her birthday party on May 10 (it's in August), talking about Fight Club, giving tours
Dislikes: talking about Fight Club while giving tours, trimming beards, people who pronounce it eXpresso
Tim Duncan
Sales Guy
Tim Duncan is a retired basketball player that led the San Antonio Spurs to multiple championships and is widely hailed as one of the greatest power forwards in NBA history. He is a five-time NBA champion, two-time NBA MVP, three-time NBA Finals MVP, and an NBA All-Star Game MVP. He is also a 15-time NBA All-Star and the only player to be selected to both the All-NBA and All-Defensive Teams for 13 consecutive seasons. Tim, we're lucky to have you.
Likes: Partying, Drinking Craft Beer, Razzing John Buist, Being Called Timmy D
Dislikes: Writing Personalised Profile Blurbs, Erroneously Being Confused With the Other Tim Duncan